New Science Fantasy Comic Book Series!


Coming In June, 2017
The Lost Fleet Comics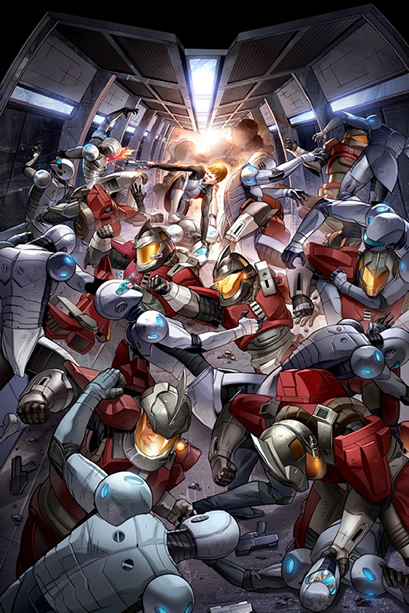 Titan Comics is pleased to announce the upcoming release of an all new comic series based on the New York Times best selling Lost Fleet novels written by best-selling author Jack Campbell, with art by Andre Siregar (Sevara).
The first three in the series are expected in June, 2017
Penciller Andre Christian M. Siregar has been working in the comics industry since 2006. He spent most of it as the Indonesian branch manager of the Glass House Graphics Agency. He recently stepped out from his shell to work on the Jack Campbell's Lost Fleet – Corsair.
Inker Bambang Irawan is an experienced inker who's been in the indie comics industry for so long. He's worked on many independent comics as both inker and colourist. By day, he runs his own clothing company as a day job, working on comics – his passion – at night.
Sebastian Cheng is an acclaimed Malaysian-American comic book colorist, best known for his work on the Revolution comic series. His work includes The X-Files, Orphan Black: Helsinki, Markiplier, and Magika, along with independent creator-owned projects such as Boy1, The Chimeran and Redshift.
Set after the end of a century-old war between two space empires, the Alliance and the Syndics, Corsair centers on the story of Captain Michael Geary, missing in action after the Syndic ambush that almost destroyed the spacefleet John "Black Jack" Geary had to get home, against all odds!
Forming an uneasy pact with rebel Syndics led by Destina Aragon, Michael Geary sets out to save not only fellow prisoners but their jailors, too - on the run from a government chafing at defeat and determined to crush any uprising! Can he live up to the legend surrounding his family name "Black Jack" Geary has carved – or will he die trying?